Beyond Prepared with Next Generation Industry Leadership
Letter From the President of Cudd Well Control
Within one of the most transformative chapters in our history, we have strengthened our leadership across our business to ensure we are "Beyond Prepared." Our new leadership team represents the "Who's Who" of well control – they are the people that make it happen every day. This includes Dustin Locklear, Vice President of Well Control and Snubbing; Sam Bowden, Sr, Vice President of Corporate Services for Well Control; Bhavesh Ranka, P.E., Operations Manager & Sr. Well Control Engineer; and Larry Nixon, Senior Technical Advisor.
Our next generation leadership team is backed by the financial strength of RPC, Inc., ensuring we have the tools and resources to deliver on our promises. As a global company, we are positioned in every major basin and focused on investing in new generation technology while continuing to expand internationally.
With our leadership team firmly in place, we will build on our strengths and lead the way in proactive critical maintenance, well control and well recovery services for operators around the world.
"

This evolution of company leadership reflects our commitment to always being Beyond Prepared for our customers.

"
Andy Ferguson
President - Cudd Well Control
---
Dustin Locklear, Cudd Well Control Vice President of Well Control and Snubbing, oversees day-to-day snubbing division operations for both Cudd Well Control and Cudd Pressure Control, ensuring industry-leading service and operational excellence on every call. Dustin served as the District Manager and Senior Well Control Specialist out of our Elk City office for 11 years, helping to establish a world-renowned base of operations in the natural gas and oil-rich shale fields of western Oklahoma. With more than 20 years of valuable oil and gas experience, Dustin has developed a deep treasury of knowledge that includes well control, pressure control, snubbing, coiled tubing, wireline, downhole tools, drilling, and completions. If it involves well control or snubbing, Dustin has done it, mastered it, and maintained or improved the efficiency and reliability of the operations.
Dustin's leadership in numerous onshore and offshore well control events has taken him around the world to global hotspots for oil and gas exploration and production, controlling and conquering well blowouts and fires. His vast expanse of well control experience and knowledge includes a strong focus in HPHT snubbing, blowout well recovery, equipment design and development, downhole tools, hot tapping, valve drilling, and cryogenic and conventional freeze methods.
---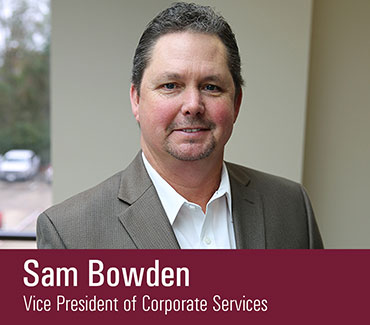 Sam Bowden, Sr., is the Cudd Well Control Vice President of Corporate Services for Well Control and Special Services, serving in a practical as well as a visionary role responsible for maintaining and expanding the company's global business opportunities. Sam's onsite experience in well control and blowout prevention is invaluable in aiding corporate business development efforts, ensuring we provide customers with industry-leading, world-class service that fortifies and optimizes customer operations. Sam's work history includes more than 400 projects across the globe, including onshore and offshore emergency well control and firefighting in the United States, Kuwait, France, Oman, Italy, Trinidad, India, Indonesia, Africa, and Canada. In 1991, Sam worked with teammates in Kuwait to cap 137 wells with zero accidents during a seven-month project in the scorching temperatures that exceeded 140 degrees. His experience includes operational and pre-planning projects for installation of BOP capping stacks, the removal/replacement of damaged wellheads, emergency response plans, rig surveys, relief wells, heavy offshore lifts, and complex well kill operations. Sam also has experience with hot tap and freeze operations, snubbing, gate valve drilling, critical P/A projects, and subsea multiple well kill operations. As a Safety Director, Sam worked with OSHA to write more than 20 safety plans, keeping his employer in compliance with continually changing regulations.
With more than 30 years of industry experience, Sam is a second-generation well control pioneer whose family has been instrumental in establishing the operational techniques that have become standard practices in oil and gas operations around the world.
---
Bhavesh Ranka, P.E., serves as the Operations Manager/Sr. Well Control Engineer, elevating the company's presence in the domestic and global markets by ensuring continued world-class service in well control engineering, blowout intervention, and firefighting operations and recovery. Bhavesh brings more than 14 years of critical well control engineering experience to CWC, overseeing all of the company's field operations. Having worked as a lead engineer in third-party inspections for BSEE regulations compliance, Bhavesh's experience in the petroleum-producing regions of the United States positions him as an unparalleled leader in domestic operations. In addition, he has worked well control engineering projects in Australia, Cameroon, Canada, India, Nigeria, Saudi Arabia, Spain, and United Arab Emirates, rounding out his well-honed skills with global industry knowledge steeped in the hottest markets around the world. With industry knowledge that covers every aspect of onshore, offshore, and special services offerings, Bhavesh leads Cudd Well Control into the future of well control engineering, ready to tackle the ever-changing market.
Bhavesh graduated from the University of Mumbai with a bachelor's degree in chemical engineering. He also has a master's degree in natural gas engineering from Texas A & M University, Kingsville. Bhavesh is a member of the Society of Petroleum Engineers and is IADC WellSharp certified. He is a registered professional engineer in the State of Texas.
---
Larry serves as Senior Technical Advisor at Cudd Well Control, where he leverages his 40 years of industry experience in onshore and offshore well control projects to solve our customers' toughest challenges. Larry's resume includes working on some of the world's most famous emergency well control projects, including serving as the field relief well kill team lead onboard relief well rigs on the BP Macondo well control project, as well as being deployed on the first 5-man team in the 1991 Kuwait fires project for capping and controlling numerous wells.
With a strong focus on drilling, well control, well intervention, relief well and blowout recovery operations, Larry's work history includes assignments in over 30 countries and in all operational settings including Ecuador, Kuwait, Libya, Thailand, Malaysia, Indonesia, Brazil, Vietnam, Trinidad, Russia, Angola, Nigeria, Qatar, Norway, The Netherlands, UK, and India.
Prior to joining Cudd Well Control, Larry held the positions of Global Manager of Well Control Operations, Risk Manager of Operations and authored numerous site-specific Blowout Contingency Plans, voluntary ignition plans, technical operations documents, various engineering studies and well control related plans and procedures. Additionally, he served as Sr. Technical Advisor of subsea well control and engineering services.
In a career that spans decades and continents, Larry has also worked as Risk Manager of Operations worldwide for the world's largest offshore drilling contractor and turnkey drilling operations in one corporate entity along with the implementation of the corporation's global security program.
---
Senior Well Control Specialists
---
Senior Well Control Engineers