Well Control Consulting With The Best
At Cudd, we have established an industry-leading well control service company on a solid foundation of firefighting and emergency response operations, able to mobilize anywhere within a day's notice. Building on that tradition, we developed an engineering expertise in response to an industry need, providing customer-oriented consultation services to deliver optimal results bound to a safety-first maxim. They say the best laid plans often change with the unexpected.
We believe the best plans are those that anticipate change and incorporate proven solutions. Whether it's a standard drilling plan or a state-of-the-art gas dispersion model, we explore and identify opportunities for improvement with the same vigor we use to extinguish fires and regain well control.
DRILLING PLAN REVIEW AND ENHANCEMENT
Operators use our drilling plan review and enhancement service to optimize drilling in critical wells, wells with suspect pressure regimes, or wells with narrow pore pressure and frac gradient windows. With a Cudd drilling plan review and enhancement, you will receive precise calculations for the following parameters:
• Surface Pressure While
Circulating Out a Kick


• Frac Gradient
• Kick Volumes During Influx
Removal


• Mud-Gas Separator
Performance
• Maximum Surface Pressure
For Several Wellbore


• Bullhead Kill
GAS DISPERSION MODELING
An unexpected gas influx in a wellbore is one of the most dangerous well control events an operator can be faced with. Gas dispersion modeling helps mitigate that risk by determining the impact a full-scale blowout may have on the surrounding environment.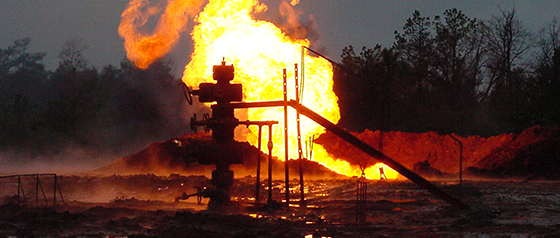 With operator-supplied open flow potential data, our engineering division can calculate the gas concentration for a variety of meteorological and surface terrain conditions using the Breeze HazPro® gas dispersion modeling program.
In the event of a major well control incident, your team or a team of dedicated well control specialists can use the data during the early stages to determine the impact area and the scale of the response. We can also use the data to develop a blowout contingency plan and determine when a blowout should be ignited to regain control of a well.
BLOWOUT IGNITION PLAN
When confronted with a catastrophic blowout, timing is everything. The immediate response is to regain control of the well by any means necessary—even if that means igniting the blowout. Such an action requires serious planning and execution. Otherwise, loss of equipment and the wellbore, perhaps even personnel, may ensue.

We have decades of experience supplying operators with ignition criteria for gas storage wells. However, this is a plan that is best carried out prior to the start of operations. Essentially, a well is like a fingerprint, characterized by specific data for various circumstances. Each individual well requires its own gas dispersion profile calculation.