Cudd Well Control Unveils New Global Headquarters
New state-of-the-art facility consolidates office space with warehouse in one location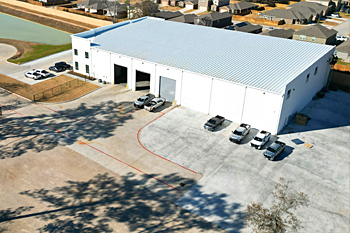 HOUSTON, TEXAS - After a year-long planning and construction phase, Cudd Well Control today announced the unveiling of its new global headquarters. The 27,000-square-foot state-of-the-art facility expands Cudd's presence in the Greater Houston Metroplex and consolidates the company's offices and warehousing in one location. This new base of operations underlines Cudd's growth strategy as it celebrates 45 years of operations, develops new technologies and a powerful well control workforce.
"In the past year, we've invested in technology, built strong alliances, grew our team, and now we are physically expanding our footprint with the new headquarters in the greater Houston area," says Cudd Well Control President Andy Ferguson. "The new facility will improve efficiency, collaboration, and offerings while providing an exceptional work environment for our employees and our customers."
The new facility offers the space to hold advanced well control training on-site and act as an emergency response center for customers. Furthermore, the facility's grounds feature a retention pond where Cudd's well control equipment can be demonstrated and seen in action. An additional laydown area at the facility also allows Cudd to invite its sister companies to showcase their industry-leading equipment and service lines to customers.
With both the office and Cudd's equipment now in the same location, customers will have a one-stop destination for their well control needs and will save travel time. Internally, Cudd will benefit from increased communications and efficiencies between departments, further accelerating the company's response time.
The new headquarters offers an inspiring working environment for Cudd Well Control employees and sets the course for further growth. Integrating technology, solutions, and people, the facility is poised to deliver the future of well control today while acting as the central hub supporting other critical regions that house Cudd's newly updated emergency packages and equipment.
Located in Hockley, Texas, the new global headquarters offers proximity to George Bush International Airport and David Hooks Airport, where Cudd personnel fly from when called out on emergencies. The site is also conveniently accessible via major Houston area freeways, including Texas State Highway 99 and U.S. Highway 290.
Cudd Well Control New Global Headquarters:
22242 FM 2920, Hockley, TX 77447
Media contact:
Sandra Flores
Director, RPC Marketing
sflores@cudd.com
(281) 719-2935